4 Things to learn from this "Egg", really? 🥚
At the time (17 Jan 2019, 11.22am) I wrote this blog post, this Instagram post had already achieved 46 millions likes. I bet it can reach 100 millions likes in the near future.
Yup, it's just a stock image of an egg, and it has become the most popular Instagram post now. You know what?! the egg is taking over Kylie Jenner's shot of her newborn daughter.
What's special about this "Egg"? 🥚
No, it's just an ordinary Egg, and it's the only post from this Instagram account: world_record_egg. Let me emphasize, this IG account has got ONLY the "egg" post.
The caption clearly mention the intention to set the world record:
"Let's set a world record together and get the most liked post on Instagram. Beating the current world record held by Kylie Jenner (18 million)! We got this 🙌"
What can we learn from this "Egg"?
1. Viral Marketing
When something suddenly becomes a trend, or in this scenario a global phenomenon, it's the perfect timing to join the bandwagon.
If you are quick and smart enough, you can incorporate the "Egg" into your own brand. While the topic is still hot at the moment, people will feel entertained and amazed by the creativity.
For example, many users use the "Egg" as a theme when creating memes.
*Have no idea what a meme is? Here is the definition from Wikipedia:
A meme (/miːm/ MEEM) is an idea, behavior, or style that spreads from person to person within a culture—often with the aim of conveying a particular phenomenon, theme, or meaning represented by the meme.
The above are just some of the meme collection based on the egg. It's time! I highly recommend you to come out with an ad design / paid banner ad related to this egg. Even better, if you can localize the design, the result will be even more positive. Act fast, create a few "Egg" posts and post them on social media now!
The later you post, the weaker the effect, since the trend might already be over.
Still remember how "Crispy Chicken Rendang Skin" went viral in 2018? Read all about it here my thoughts and review.
2. Simple and Straightforward
To many digital marketers out there, most of the time we make the same mistake: overthinking.
In order to stand out from the saturated crowd, we always try to create the most sophisticated campaign, without realizing that our audience might not understand the main message we want to deliver.
More often than not, we get greedy, wanting to show various messages in our Google Ads display banner, Facebook Ads or on the website. This causes confusion to visitors/viewers, especially to those who browse your website and app for the first time.
It's great to remind ourselves to come back to basic. In fact, simple and straightforward are always preferred.
Want to ask your potential/existing customers to do something? Be clear on your ads and make sure your target audience get your main message immediately.
3. Business Opportunity – Fast Cash
If you are in the food and beverages industry, having a limited "Egg" promo is great timing.
You can come out with a new menu, upsell "Egg" or other related food. This is high time to grab customer attention while the egg is still going viral at the moment.
Even the Instagram user of this record holder is selling T-shirts now!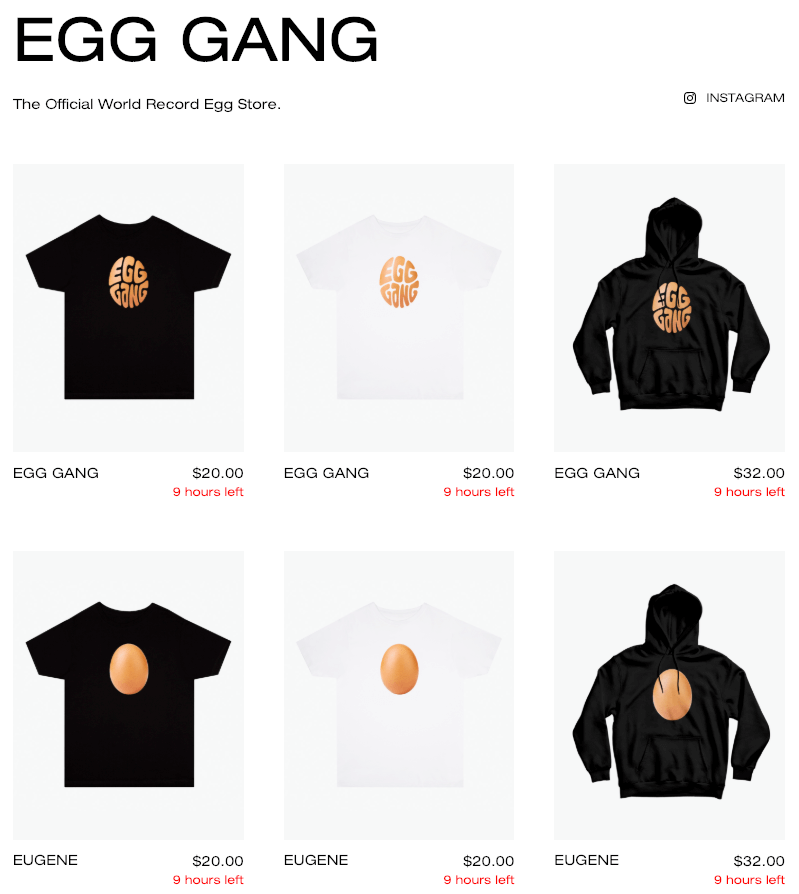 I foresee the sales of egg caps, egg jackets, egg T-shirts, and other related merchandise and gifts to increase before the trend is over.
Even the American Egg Association is celebrating the triumph of an egg-turned-Instagram celebrity.
This association is selling millions of eggs to celebrate the Instagram-famous egg's success, and has reached out to the person who posted the egg to collaborate.
4. High Search Volume = SEO opportunity
Want to know the power of the "Egg"? The search term "Instagram Egg" is exploding worldwide right now.
The screenshot from Google Trends shows the related queries like "world record egg Instagram", "world record egg", "most liked Instagram photo" are among the top.
What does this mean? This reflects the "Instagram egg" is having high search volume and internet users keep searching using these keywords.
Want to join the party and enjoy extra website traffic? Write a blog post, create a video/infographic/podcast or anything related to this trend.
In fact, this is also part of the reason I wrote this post.
In a nutshell
Remember, in today's digital age, instead of 'big fish eats small fish', it's 'fast fish eats slow fish'.
All the best for creating more "egg-citement" digital marketing campaigns for 2019!